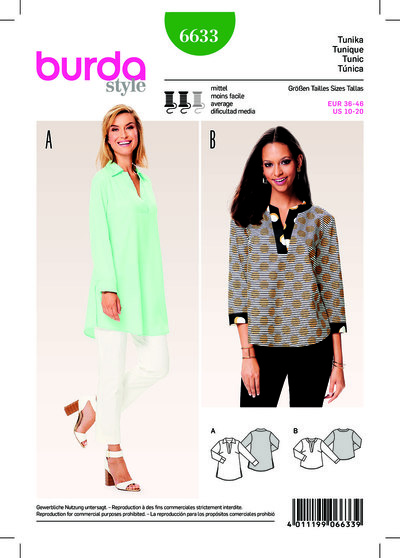 This is a nice tunic pattern that I saw in the Burda catalogue. I was looking for a tunic with an overlapped neckline like this one. The pattern is well-drafted, but I have to say it is very sparse with instructions.
Inserting the circular neckline facing could have been better illustrated and things like stay-stitching the edge and clipping it before attaching the facing (you are attaching a converse curve to a concave one) are omitted. I guess Burda assumes that you should know these things, but if you haven't done it in a while, you charge ahead as I did and then you get puckers!
Oh well, I am getting used to the fact that I have to make something twice before I get it right. So this version was made up quickly in a black embroidered cotton, and I have a second version cut out in a red cotton.
Making something twice, especially if you make them back to back, helps you to iron out any glitches, both fitting and sewing glitches and I hope my second version is smooth and pucker-free now that I know what to watch for.
I made no alterations to the pattern, and every time I sew up a Burda, I ask myself why I don't sew exclusively with Burda patterns. They are drafted for a C cup so there is no bust alteration to make, and little things like the shoulder seam and the armscye are just drafted slightly different yielding a better result.
The shoulder seam has a curve in it, rather than just being straight across. The armscye is quite different than other pattern brands, the back armhole is shorter and the front armhole almost has an L shape to it. I think this shaping fits me better and I have seen this before on some Burda dresses that I have made.
In my second version, I did reduce the length of the shoulder seam 1/2". I think this top would also work well if done sleeveless, in which case I would raise the underarm seam about 3/4" and taper that seam in closer to the body to eliminate any gaping. I would also cut in the shoulder seam deeper as suggested by Sunny Gal on her blog. In fact, it was her success with this style that made me go out and look for a similar pattern.