A quick visit to the fabric store this morning - disappointment that McCalls 7549 is not available yet. So I picked up three other patterns, all McCalls.
McCalls 7248, a tunic top with sleeve variations and choice of two necklines, one deeper than the other but both the overlapping front band.
McCalls 7390, another pullover top with some very interesting angled seams. It looks great in striped fabric, but could also be done in two or three coordinating fabrics. The line drawing shows much more potential than the photo above.
And McCalls 7470, a pattern from Palmer/Pletsch for a shirt and shirt-dress with Pati's excellent fitting advice. Her patterns are like getting a sewing lesson included with the pattern. I have always liked those patterns from McCalls. I may use this one for the princess-seam shirt that I want to make into a TNT pattern. It looks like a great pattern, with plenty of fitting insurance built into those princess seams, and the option of a dress either with or without sleeves.
Then I just wandered through the store, checking out new arrivals. Lots of coating fabrics in stock, it surprises me that so many people are sewing coats, because I don't see them on my friends. Who is buying this fabric? The saleslady said much is being bought to sew into capes, as they are simple and don't require fitting.
A table of lovely pinwale corduroy but I resisted. I haven't sewn up the last bunch I bought.
Then a table of some gorgeous shirtings, 100% cotton and very fine. Perfect in my opinion. Many stripes and checks, so I opted for 2 metres of this 60 inch wide fabric to be used once I get the shirt pattern to my liking. This one will require precise matching, so I will save it until the pattern is absolutely perfect.
I also found at the back of the store, which is where they put last season's bolts, a bunch of pure linen fabrics. Oh so hard to resist, one was a lovely navy handkerchief-weight linen, that would make the great summer shirt. Some others in a dress-weight linen, in soft yellow, brighter yellow, coral and turquoise. They weren't cheap though and, even at 50% off, they would still cost around $18 per metre. I couldn't justify buying any of those, as I know they wouldn't be sewn for quite some time. If they had been cheaper, I wouldn't have hesitated, but common sense told me to restrain myself.
I am looking forward to the New Year and some new to sew. No pressure, just sewing for the pure joy of it.
In the meantime, I have been doing a fair bit of knitting. A sweater for Hannah keeps the hands occupied while watching movies during the holidays. I no longer sew in the evening, but keep my husband company and we often watch a mystery on Netflix. I can't just sit there but have to do something with my hands so there are things coming off the needles.
This is a cardigan knit in one piece from the neck down. The colour is a true purple, but appears more blue in this photo. The pattern is Granny's Favorite by Georgie Hallam, downloaded from Ravelry. I am knitting it in Cascade SuperWash wool and in the largest size since Hannah is 13.
And then I ordered some Cascade 220 wool to knit this sweater in the fall Interweave magazine. The pattern is the Harvey Pullover by Hannah Baker and this one is knit in one piece from the bottom up. The front is done in a Brioche stitch and the back in stocking stitch. There should be enough variation to keep this from getting boring and I haven't knit a pullover in ages. Perhaps with all the shirts I plan on making, a pullover might be a good idea. I love a sweater with a crisp collar peeking out over the neckline. This wool is a turquoise heather so it will have a marled appearance and I bought the shirting above thinking they would work together. Of course, the shirt will be finished long before the sweater.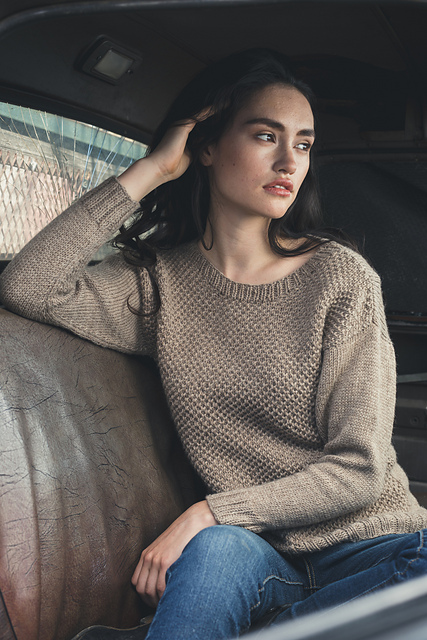 The pattern is available on Ravelry at this link.