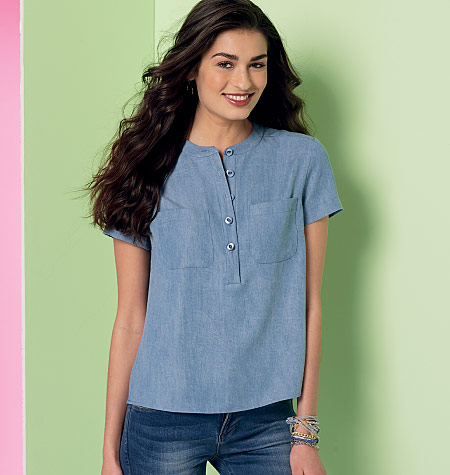 On a recent shopping trip to the local Fabricville, I picked up this pattern McCalls 7360. I have always liked the Henley tab button front on knit shirts and I couldn't pass up a woven version of this shirt.
Kudos to Mary at
www.idlefancy.com
for her wonderful tutorials on bust fitting. I have recently made mockups of two shirtdress bodices, using Mary's great instructions. I haven't made the dresses yet, but now that the bodices are fitted, the skirt part is no problem.
So I used her method with this pattern. So many times, I have just cut the size that will give me the finished circumference that I need, only to find fitting problems in the neck, shoulder and armhole areas. Enough of that silliness. Since I have a 4 inch difference between high bust and full bust, a full bust alteration is really in order.
And I just sewed up the side seams of this shirt and am thrilled with the fit. I have the sleeves to set in, and the hem to do, plus buttonholes and buttons but those should be done tomorrow. Already I have pulled out two pieces of fabric from the stash to make this shirt again.
A soft drapey tencel woven that I had in Timmel Fabrics many moons ago, and a great purple and teal plaid that must have rayon in it, since it drapes so nicely. Another short sleeve variation and then a sleeveless version for those hot summer days that must be coming our way soon.
I cannot thank Mary enough for her inspiration to me. I love seeing her many versions of shirtdresses and her candid advice about fitting. For us larger curvier ladies, she is a great mentor. I so look forward to her posts and her latest adventures in sewing.
You can check out her tutorials on fit here
http://www.idlefancy.com/p/tutorials.html
And take a look at her wardrobe while you're there, such lovely dresses.
http://www.idlefancy.com/p/my-closet.html