An old pattern from the stash. I have come to realise that, despite my love of making jackets, I really do not wear tailored suit-type jackets, but love the lines and casualness of a jean jacket style. So when I was looking through the pattern cabinet, this pattern caught my eye. The lines are similar to a jean jacket, but it offers a longer version; also the collar appealed to me.
I have had pretty good success with Kwik Sew patterns. And this one was simple to alter. A length alteration in the bodice of 1 inch, would bring that waist inset to the right place on me. Two inches off the sleeve, one above the elbow and one below made the sleeve absolutely correct. Cut a medium shoulder, grading out to the Large size at the underarm and side seam. I often straighten out curved side seams as I have no curve there and, if you don't have hips that go out at the side, the garment just sticks out awkwardly. Since I have no waist shaping, I don't need any in the pattern either.
I did add a pocket to the jacket. The front extension piece could simply be duplicated and it would give you a pocket. So I cut that piece again, lined it and applied it on top of the front before sewing the side front to the center front. It is hardly visible but gives you that much-needed pocket that we all love in jackets. Once the jacket was to the point to try on, I decided the shoulder seam was too long on me and inserted the sleeves half an inch further in.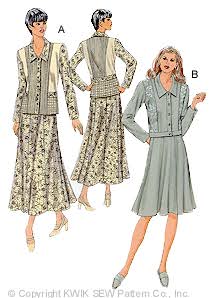 My fabric was also from the stash; I think it is a linen/rayon blend. It creases like linen, but has some drape to it; and the threads along the selvage have a sheen to them which makes me think there is a good percentage of rayon in it. I opted for sew-in interfacing; my latest experiences with fusible have not been happy; I have had interfacing bubble and, in one dress, it has actually separated from the fabric after a few washes. Does interfacing lose its ability to adhere if it is a few years old? I didn't have this problem before, and it is the same interfacing, so I am wondering if age does something to the glue.
I even had the lining in the stash, Bemberg of course. So, for this jacket, my only purchase was interfacing, thread and buttons. The pattern doesn't call for a lining, but they sew up so quickly compared to the garment itself and then all the inner guts are covered up. Plus the jacket slips on and off so nicely and looks good over a chair when you take it off. I took a cue from Beth of http://sunnygalstudio.blogspot.ca/ and inserted the lining completely by hand stitching rather than by machine. This assures flexibility in those seams so that nothing pulls or puckers and it doesn't take that long. Kind of relaxing to spread the jacket out on a table and slip stitch the lining in place. Just put on a video on YouTube and my hand sewing was done within an hour.
The colour is very versatile. It will go with the navy linen dress I completed a few weeks ago, and I also have a black wool challis dress that will work well with it. I was wanting an outfit in the closet that would work for dress-up occasions without being too dressy. A dark dress with a cream jacket seems to be just right.
While working on this jacket, I kept thinking that it would be great in a rich cotton velvet, also in a mini-check (like a Sherlock Holmes jacket) and in all-purpose denim. It would also be a great casual jacket made up in medium wale corduroy, to be worn over a turtle neck for those cool fall days. The top-stitching invites such fabrics and I think I will be re-visiting this pattern later this year.
Fabric Sewn 2 metres navy linen for dress
2.5 metres ivory linen blend for jacket
Total Yardage Sewn in 2016 - 45.6 metres
I have also been sorting through my fabric stash since I cannot move all of this stuff a thousand miles next summer. I have a whole pile ready to bring to the guild next week for a fabric sale/exchange and I have donated several bags to GoodWill. I think I have pared down my stash by about one-third; there are still several containers to go through and say my goodbyes to yardage once lovingly stashed.