A sweater for grand-daughter Hannah - this is called Granny's Favourite by Georgie Hallam. Downloaded from Ravelry. Knit in Cascade Superwash Wool in a double-knit weight. This was a very nice sweater to knit, and I even learned how to knit the sleeves on circular needles using the Magic Loop method.
I found the lacy pattern on the yoke easy to do, and then the rest of the sweater is plain stocking stitch. It did get kind of boring, but it is a good project to have on the needles when you are watching movies.
My only concern is with the washing of this sweater. Since Hannah is one of 7 children, there are loads and loads of laundry and everything gets tossed in together. I think I will warn her to keep this sweater separate and I will wash it for her when it is required. Although it is washable, I don't think it will survive the grueling laundry in her household. The other alternative might be to put it into a mesh laundry bag to keep it from getting stretched out too much.
And on the needles now is this sweater.
The Harvey Pullover by Hannah Baker and in the Interweave Knits fall issue, also available as a download on Ravelry.
http://www.ravelry.com/patterns/library/harvey-pullover-2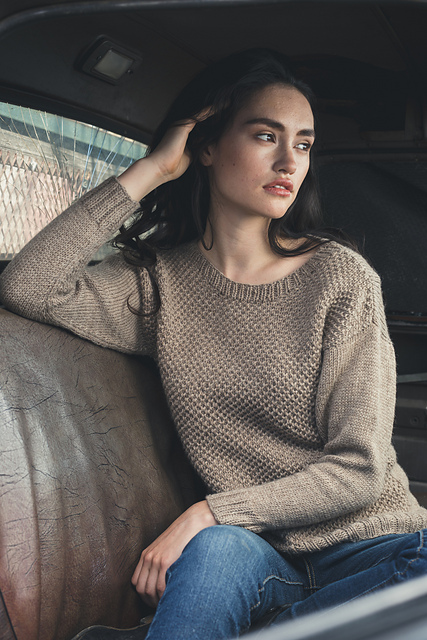 I am knitting this in the recommended yarn, also my favourite yarn, Cascade 220 a pure wool worsted weight. I chose a heathered turquoise and bought it, sight unseen, from www.yarnforward.ca
When it arrived, it seemed a little washed out in colour to me, but it has grown on me and I am really liking it now. I don't usually knit pullovers and am not even sure how much I will wear it. But with an upcoming move to Ontario this summer, the seasons are different than Nova Scotia and I anticipate this will get worn come fall, especially since we will have a new dog that needs lots of walking.
This is also knit in the round and the front of the sweater is done in a Brioche stitch which is really pretty. Only four rows to the pattern, so not too hard to commit to memory and this can be knit while TV watching.